Before any producer imagined Reality TV there was already a reality TV -- the news. Slowly, over decades, news broadcasters have been learning how to do sights and sounds that create reality. On 911 they used every trick they knew to help us experience the terror of the event.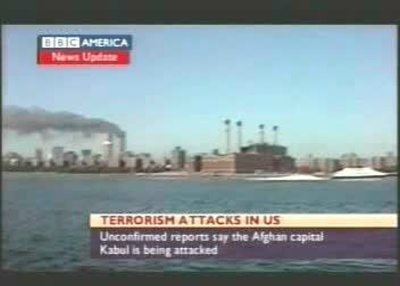 Click Image to Play Video [0:16]
The reporters talk and we listen, but the camera is doing its own thing. In this segment we are moved in space. [play video]
The first image is from across a body of water. We see the skyline. It sets the scene; it provides us a context within which to fit later images.
Then, we are quickly moved across the body of water. The building bursts into flames. The explosion is in our faces -- up close and personal.
Then we are moved back -- ending the dialectic in an intermediate position. We see the horror of the burning building -- now against the familiar skyline of the city.
The city is being destroyed, and we witnessed it "first hand."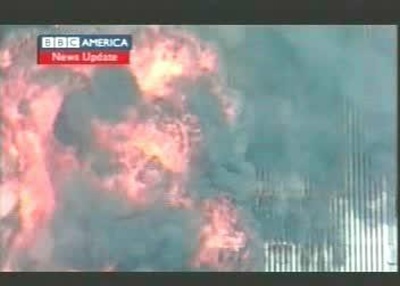 Click Image to Play Video [0:51]
Then we are thrust into the terror of the streets. [play video]
Running, fleeing. Aghast at what they see happening over their heads. Horns honking. People shouting. Police urging people on. "You'll be trapped."
We are thrust into the scene by the camera. Visually we are in the crowd. We are running. But it is the sound that chinches the reality. You hear the running. You hear the fear. You hear the terror in the cry -- "you'll be trapped."
It is the combination of sights and sounds -- and the immediacy of both -- that is the news broadcasting version of reality TV.
Then the towers collapsed. [play video]

Live -- on television the first of the towers collapsed. The news broadcasters were incredulous. The side of the building collapsed? The whole building collapsed?

Before our eyes, the destruction was completed.

Click Image to Play Video [0:19]

The second tower collapsed. [play video]

The prelude to the collapse was pictures of people hanging out of windows. Trying to escape, but there was no escape.

And we hear the sounds as the tower crumbles.

Click Image to Play Video [0:39]

And a third building crumbles to the ground before our eyes. [play video]

Click Image to Play Video [0:14]
Terror becomes us in the sights and sounds that we more fully experience than had we been on the ground.